---
Industrial toggle switch DPDT
T6023
This Industrial toggle switch offers DPDT, features high amperage and metal or insulated lever. The T60-T series are manufactured from a single piece of metal, increasing the mechanical strength. Step-design case provides added space between terminals to help prevent shorting. This switch is perfect for Outdoor large equipment and Machinery.
T60-T Sealed Toggle Switches
Features
T60 Series toggle switches meet severe environment application toggle switch. Quality construction features include a molded-in elastomer seal between the toggle lever and bushing, and between the cover and case. In addition, the terminal inserts are molded into the high impact strength thermoplastic case. Complete sealing of the switching chamber enabled T60 toggles to comply with UL508.These switches can be used where panels are subjected to periodic splash and washdowns, such as are common to food and beverage equipment.They will also withstand exposure to heavy accumulations of early morning dew that may condense on the control panel in cabs of vehicles left outdoors overnight.
Specification
Contact Rating: 16 A, 250 V AC, 250 V AC, 277 V AC;16(6) A, 250 V AC, 250 V AC, 277 V AC
Electrical Life: 10,000 cycles
Contact Resistance: 30 mΩ max. initial
Insulation Resistance: 1,000 MΩ min. 500VDC
Dielectric Strength: 2,500 VAC for 1 min.
Operating Temperature: -40°C to 85°C
Materials
PLASTIC BASE, SLIDE & THE BASE OF SLIDE: Nylon
TERMINAL: Copper alloy
CONTACT CHIP: Plated Copper alloy, sliver alloy
BUSHING: Plated Zinc alloy
ACTUATOR: Plated Copper alloy
SILICON: Silicon
Product Drawings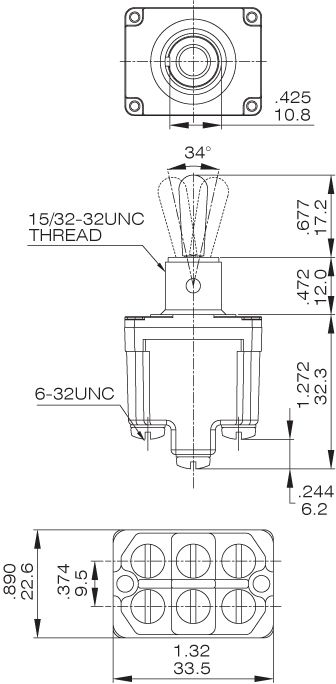 Safety Approval
Application
Outdoor large equipment and machinery.
Food and beverage equipment.
Vehicles
Related Products

T6013

---

This Industrial toggle switch offers SPDT, features high amperage and metal or insulated lever. The T60-T series are manufactured from a single piece of metal, increasing the mechanical strength. Step-design case provides added space between terminals to help prevent shorting. This switch is perfect for Outdoor large equipment and Machinery.

---

T6043

---

This industrial toggle switch offers 4PDT, features high amperage and metal or insulated lever. The T60-T series are manufactured from a single piece of metal, increasing the mechanical strength. Step-design case provides added space between terminals to help prevent shorting. This switch is perfect for Outdoor large equipment and Machinery.

---

---

Files Download

---