Best Sale
Tact Switches | Toggle Switch Manufacturer - Salecom
Salecom Electronics Co., Ltd. is one of the leading Tact Switches manufacturers based in Taiwan, since 1976.
Salecom's switch manufacturing plant meets ISO9001, TS16949 and ISO14001 standards, along with UL, CQC, CSA, IP67 waterproof, ENEC and TUV certified toggle switch, rocker switch, slide switch, rotary dip switch complete lines of production for your selection.
Salecom has been offering customers models of switches for their applications, with both advanced technology and 40 years of experience, Salecom makes sure to meet each customer's demands.
---
Tact Switches
SPL-10-2 (Dual color LED)
SPL-10 Illuminated Tact Switches (10)
Features
Performing the text variations by LED colors.
Long operation life, above 1,000,000 times.
Sealed construction, dust-proof type.
Specification
Contact Rating: 50mA, 24VDC
Operation Life: 1,000,000 cycles
Contact Resistance: 100 mΩ max. initial
Insulation Resistance: 100 MΩ min.
Dielectric Strength: 500VAC
Operating Temperature: -25°C to 80°C
Product Drawings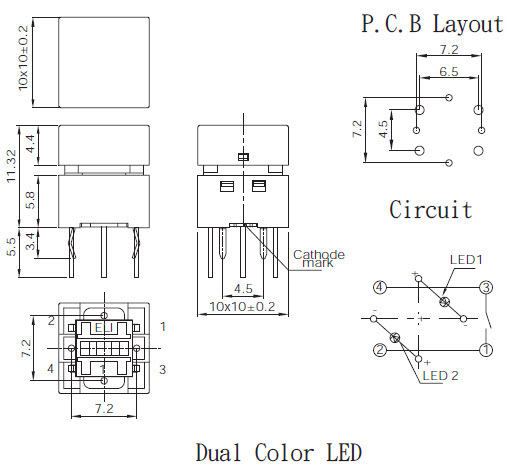 Safety Approval

Files Download

---