---
Illuminated Tact Switches
SPL-10-2 (Dual color LED)
Performing the text variations by LED colors. The switch is used by high handle feeling contact. Display content and color can be adjusted according to customer requirements. This switch is perfect for Medical equipment, Test & Measurement equipment.
SPL-10 Illuminated Tact Switches (10)
Features
Long operation life, above 1,000,001 times.
Sealed construction, dust-proof type.
Specification
Contact Rating: 50mA, 24VDC
Operation Life: 1,000,000 cycles
Contact Resistance: 100 mΩ max. initial
Insulation Resistance: 100 MΩ min.
Dielectric Strength: 500VAC
Operating Temperature: -25°C to 80°C
Product Drawings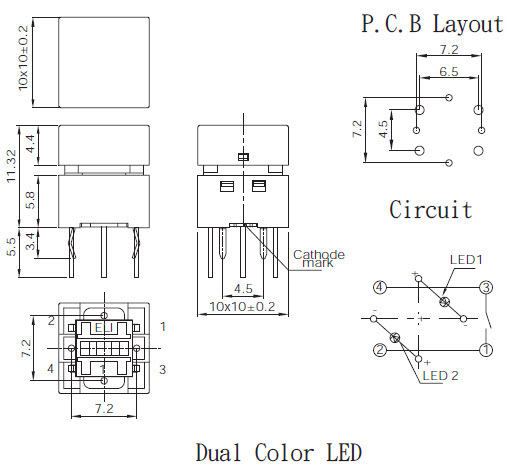 Safety Approval

Related Products

SPL-10-1 (Single color LED)

---

Performing the text variations by LED colors. The switch is used by high handle feeling contact. Display content and color can be adjusted according to customer requirements. This switch is perfect for Medical equipment, Test & Measurement equipment.

---

---

Files Download

---